SPECIFICATIONS
SIZE

IN THE BOX & WARRANTY
Make the most of your time at home under a warm cover set by precise controls and quality materials. Control your comfort zone with the Body Zone by Beeville heated electric blankets. Adjust the comfort level for your upper and lower body with multi-zone heating technology and 6 heat settings. Each of Beeville's electric blankets are designed with dual-zone heat technology so you can individualize the heat setting for both your upper and lower body to truly personalize your comfort. Beeville offer king size electric blankets, queen size electric blankets, double, single and electric throw blanket
WI-FI READY & VIRTUAL CONTROL
Download the Body Zone Connect™ App to transform your smartphone into a virtual controller and perform all operations exactly as you would do from the physical controller.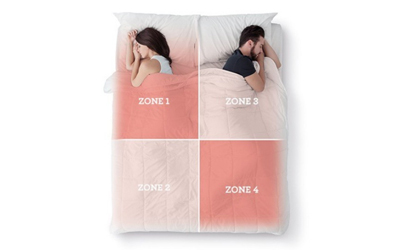 STATE OF THE ART IN COMFORT
Body Zone provides 6 individual heat settings for upper/lower body on each side for personal preferences. Dual controllers are easily detachable when cleaning and storing.
THE RIGHT FIT
Suits most king size mattresses and fully fitted skirt 45cm depth. Machine washable with removable quilted cotton cover and stay-fresh antibacterial treated polyester.
RELIABLE AND DURABLE
Superior quality materials and components like quality heating wire meet the highest of standards. Durability tested for over 1,500 hours.